In this week's bulletin, we discuss Valheim, Lara Croft, Field of Glory 2: Medieval, Middle Ages in Modern Games, Potion Craft, Nebuchadnezzar, a Lecture on video games and History, Black Myth: Wukong, Archiving multi-platformed games and how pigs play video games!
One Million Vikings!
For once, this isn't about Valhalla. It's about Valheim! The Early Access Viking exploration game which launched just over a week ago has now racked up 1 million sales in their first week! That's a pretty neat achievement for an Early Access title. To quote the developmers Iron Gate Studio: 'For measure, that is equivalent to roughly 8,333 Viking-crammed longboats heading to their next conquest!' I personally haven't played the game yet, but Doc Random says it's pretty solid, and the Steam reviews are also 'Overwhelmingly Positive'. It seems Valheim has hit a Viking sweet spot!
Lara, you're drunk
What do you get when you have a studio that decides to make a promotional video for an upcoming video game with some questionable animations? You get this video of Lara Croft. Back in 1998, developers Core Design and Eidos Interactive thought it was a good idea to animate Lara inviting you to play the new game. It's, well yeah, weird. It's also a bit of a meme, but then again, also a cool piece of video game history! Read more on Kotaku.
Field of Glory 2: Medieval
Field of Glory 2 is kinda a niche game inside a niche community. It's a wargame, which aren't known for their huge playerbase, and it's a pretty basic one – you could call it a simulation of a tabletop wargame. However, the FoG title is held in high regards, as it's actually a pretty good game. Mostly portraying Ancient warfare, FoG 2: Medieval takes a little trip to the 'High Middle Ages' (if you could call that period like that). We haven't played it (yet), but PC Gamer's Jonathan Bolding wrote a pretty solid review of the game. Even though the graphics and such aren't that much to notice, the game itself is enjoyable, however with some annoying mechnics. In the end, Jonathan scores the game a 70/100, which is pretty solid. To quote Jonathan: 'There are a lot of ancients wargames on PC, and it's nice to see the medieval period finally get some turn-based love.' I completely agree with him. Read the entire review on PC Gamer.
Middle Ages in Modern Games Call for Papers
Last year's Twitter Conference 'Middle Ages in Modern Games' was a huge success, so this year they're back for more! Set to be hosted from the 25th until the 28th of May, you can now send in your papers broadly relating to the Middle Ages in Modern Games. Sponsored by the Public Medievalist and the University of Winchester, it's bound to be a good one again!
Potion Craft
If you love crafing games, you'll probably like Potion Craft! It's a game where you, well, craft Potions! It looks a bit similar in art style to Inkulinati, but you basically get to brew concoctions and sell them to the medieval populace. It's still in development with no launch date yet, except from it being launched somewhere in 2021. However, you can download the free demo from Steam, so you might want to give that a go! Read more on Potion Craft over at Rock Paper Shotgun.
Nebuchadnezzar
Isometric city builders are kinda hot right now. The classic Pharaoh is getting a reworked version, and alsothe new Nebuchadnezzar is set to launch next week (17th of February)! Set in ancient Mesopotamia, you get to build beautiful cities and ziggurats! PC Gamer's Fraser Brown has had an early look at the game, and it looks pretty promising. It's biggest selling point? It takes you back to the good old Pharaoh days of 1999, but with updated UI and mechanics from 2021! Read more on PC Gamer, and keep your eyes out for reviews and probably a stream from our side!
Virtual Lecture at Cardiff Uni
You can now sign up for a lecture from the Research Seminar Series by the Cardiff University School of History, Archaeology and Religion. Next week's lecture (17 February) is especially interesting, as Adam Chapman will be talking about video games and history! Check out more in the Tweet below!
Black Myth: Wukong new footage
Last year, we saw some footage of Black Myth: Wukong, a game in development by the Chinese studio Game Science. Being dubbed a Chinese AAA stab at Dark Souls, it looked pretty amazing. Even though the game is only set to release in 2023, more footage has come to us. And it looks amazing again! We now have an official trailer to awe at. Read more at Kotaku Australia!
How to archive multi-platform games?
Many games are released on more than one platform. More than often, this also means that the two versions of the game slightly differ. But how do you approach the archiving of those games? It's impossible to archive everything, so what choices can you make? Zena Berendse, researcher at the Dutch Institute of Sound and Vision (Beeld & Geluid), has written a blog post on exactly that as a shortened version of a research report. Looking at the case of Toki Tori a Dutch made game with 12 differing versions, Berendse discusses the importance of documentation, for example webreviews of games. An interesting read for those interested in the archiving of digital media!
Pigs play video games!
To close of this bulletin some cool news: pigs can play games with their snouts! We already know that other animals can and do play games, but researchers have also found that pigs can use their snouts to control joysticks and play games. It's quite an important find, as it proves that pigs have the capability of coupling the joystick with the game! The four pigs used in the experiment – Hamlet, Omelette, Ebony and Ivory – were so enthusiastic that even when the food dispenser broke (which rewarded their play) they continued playing! Read more on BBC.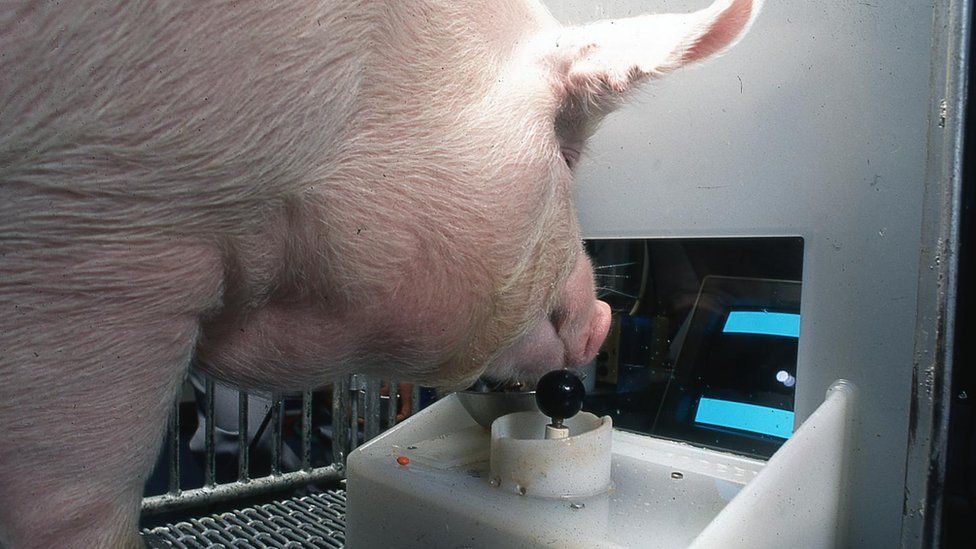 Omar 'oomzer' Bugter is a Cultural Historian from Utrecht. Since interning at VALUE, he's stuck around, mainly working on the Interactive Pasts website and the weekly streams. He wrote a thesis on Sid Meier's Civilization VI and mods, so knows this game very well. He likes many other games, including F1 2020, Hearts of Iron, Mount & Blade and Crusader Kings III., and is VALUE's in house city builder connaisseur. Tweet to him at @oomzer if you want to know anything about Civ or city builders.